About Us
A message from our CEO Brent G Davenport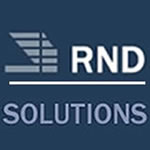 RND Solutions was established in 2006 and since then we believe we have successfully met our stated aim of providing a bespoke design and supply service, for the installation and maintenance support in respect of Audio, Lighting & Video Systems for small and medium sized companies in the Entertainment, Defence and Banking Industries.
We have built the company as an independent solution provider matching our clients requirements with the best products available meeting their needs and budget.
Building on our success across The Middle East, in 2009 we were appointed as Partners by Microsoft, working specifically with cloud services provided by Microsoft.
RND Solutions is now a certified Microsoft Partner, as Cloud Service Providers and Azure Services.
In 2009 we also opened our second office in Spain, supporting English-speaking small and medium sized businesses by utilising our knowledge of Audio, Video & Lighting Systems.
2020 was a difficult year globally and we are now facing the same challenges at the start of 2021. RND Solutions remains positive that 2021 will end on a good point. With this in mind once it is safe our third office in the United Kingdom will open.
Our new UK office will enable RND Solutions to bring the support services already provided to our clients in The Middle East & Spain to the United Kingdom.